Last week on RAW, there was a segment involving Roman Reigns and Shawn Michaels. The 'Heartbreak Kid' warned Reigns not to take the Undertaker lightly in their match at Wrestlemania 33. Reigns responded by saying that he wasn't going to take advice from someone who was retired by the Undertaker.
Reigns also said that he was going to be the one that will end the career of the Deadman. Many fans questioned if WWE was actually teasing this happening considering how much they mentioned the Undertaker retiring in the segment.
WWE posted another possible hint that this could be the case. They posted a poll on WWE.com that asks fans: "Do you think Roman Reigns will retire The Undertaker at WrestleMania 33?"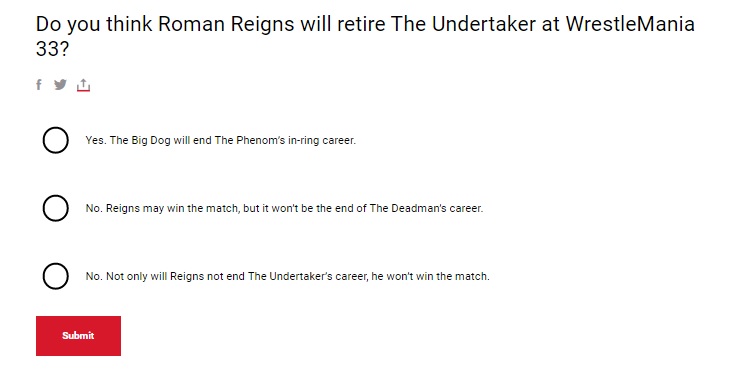 As of writing this, option 3 is dominating the fan poll.
It will be interesting to see what happens this week on RAW and if WWE will continue to hint at a possible retirement for the Undertaker. There are rumors every year that he will hang up the boots but it never ends up happening. Could this be the year?
Let us know what you think in the comment section below.