One of the biggest questions that wrestling fans have is if (or when) Hulk Hogan will return to the WWE. Hogan was blacklisted by the company a few years ago after news broke of his racist rant. Over the past year, WWE has slowly been adding him back onto advertisements on the WWE Network and mentioning him in their programming.
Could he possibly make a surprise appearance at Wrestlemania 33 this year in Orlando? Has WWE officially forgave him for what he did?
Hulk will be in Orlando during Wrestlemania 33 week, certainly keeping things interesting. He is opening a new Beach Shop in Orlando and the grand opening will be on Wrestlemania week. His schedule is open on Wrestlemania Sunday after 4:00 PM making it a possibility that he could appear at the event.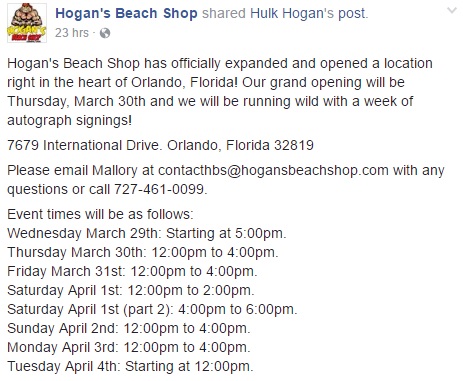 Unfortunately for Hogan fans, current rumors suggest that he will not be involved at Wrestlemania. This is likely just a way for Hogan to capitalize (tickets for the autograph signing start at $100) on the popularity of Wrestlemania weekend.
Hogan will be in Orlando during Wrestlemania 33 but it is unlikely that he makes an appearance as of right now.
We will update you if we hear anything new surrounding Hulk and his involvement in Wrestlemania 33.
Let us know what you think in the comment section below. Would you like to see Hulk return at Wrestlemania? Is it still too soon? Reminder as always to take rumors with a grain of salt.